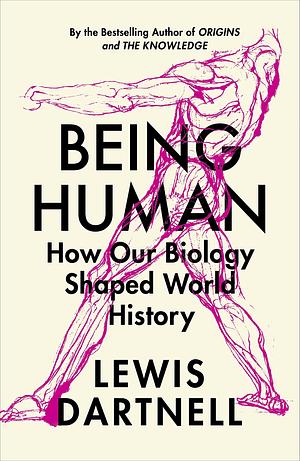 Being Human: How Our Biology Shaped World History
Genres:
History
,
Non-fiction
,
Science
Pages:
368
Rating:

Synopsis:

We are a wonder of evolution. Powerful yet dextrous, instinctive yet thoughtful, we are expert communicators and innovators. Our exceptional abilities have created the civilisation we know today.

But we're also deeply flawed. Our bodies break, choke and fail, whether we're kings or peasants. Diseases thwart our boldest plans. Our psychological biases have been at the root of terrible decisions in both war and peacetime.

This extraordinary contradiction is the essence of what it means to be human - the sum total of our frailties and our faculties. And history has played out in the balance between them. Now, for the first time, Lewis Dartnell tells our story through the lens of this unique, capricious and fragile nature. He explores how our biology has shaped our relationships, our societies, our economies and our wars, and how it continues to challenge and define our progress.
Lewis Dartnell's Being Human was okay, but not too surprising for me: it explores the links between our biological constraints (such as our immune systems and adaptive immunity) and historical events (such as the enslavement of millions because white people had no immunity to various diseases and thus were dying).
It discusses some other types of issue, such as cognitive biases, and briefly gestures toward mismatch theory… but mostly it skims over each topic, and doesn't feel like it goes into depth on anything. The incidents chosen are illustrative rather than exhaustive, so it's usually an idea, one example, and then move on.
I didn't notice any glaring errors where it concerned things I know, but I think it rather lightly touched on most things, so there weren't major opportunities for it to go wrong.
Rating: 3/5