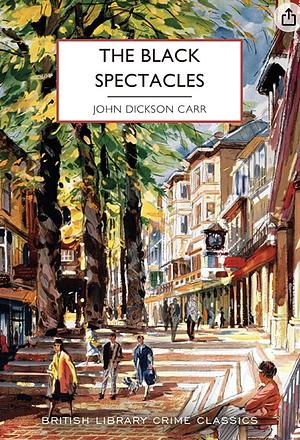 The Black Spectacles
Genres:
Crime
,
Mystery
Pages:
222
Series:
British Library Crime Classics
Rating:

Synopsis:

A sinister case of deadly poisoned chocolates from Sodbury Cross's high street shop haunts the group of friends and relatives assembled at Bellegarde, among the orchards of 'peach-fancier' Marcus Chesney. To prove a point about how the sweets could have been poisoned under the nose of the shopkeeper, Chesney stages an elaborate memory game to test whether any of his guests can see beyond their 'black spectacles'; that is, to see the truth without any assumptions as witnesses.

During the test – which is also being filmed – Chesney is murdered by his supposed accomplice. The keen wits of Dr. Gideon Fell are called for to crack this brazen and bizarre murder committed in full view of an audience.
It's still funny how I thought I really disliked John Dickson Carr's writing, and now here I am inhaling his books in a day. The Black Spectacles has quite a bit going on, with the police detective getting deeply emotionally involved with the whole thing and Gideon Fell coming in all sympathy and understanding. He's rather human for one of the Great Detective types, albeit you never learn much about his personal life or opinions outside of crime.
The crime isn't the locked-room mystery that Carr specialised in, but it is an "impossible crime" — though I realised quickly what was up with that (a similar device used in a couple of other crime novels that I happen to like). It's fun to work out what's going on and why.
There is something rather dark about the motivations and the way a particular character is treated, that left me wanting a little more at the end of the novel — something to set the world properly to rights for her. Maybe an epilogue or something. But the mystery is resolved well.
Rating: 4/5