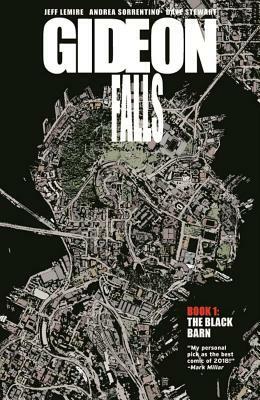 Gideon Falls, vol 1: The Black Barn
Genres:
Graphic Novels
,
Horror
Pages:
160
Series:
Gideon Falls #1
Rating:

Synopsis:

The lives of a reclusive young man obsessed with a conspiracy in the city's trash and a washed-up Catholic priest arriving in a small town full of dark secrets become intertwined around the mysterious legend of The Black Barn--an otherworldly building alleged to have appeared in both the city and the small town throughout history, bringing death and madness in its wake.

Rural mystery and urban horror collide in this character-driven meditation on obsession, mental illness, and faith.
Gideon Falls is something that's probably slightly more in my wife's wheelhouse than mine, since it's a horror comic — but something about it piqued my interest and I decided to give this first volume a shot. I'm not always a fan of the art, which feels messy. Sometimes that adds to the tension or weirdness of a scene, and sometimes it just means that I'm not quite sure what I'm looking at.
As far as the plot goes, it's genuinely weird and creepy. In this volume, few explanations are forthcoming: there's a strange barn that appears and disappears according to its own rules, and it has been the cause of disappearances and deaths for a long time. It seems to have an echo in the city, as well. Our characters are a probably alcoholic Catholic priest who seems to be struggling with his faith, and a probably schizophrenic amnesiac in the city who searches through the garbage for bits and pieces which he believes to be parts of the Black Barn.
It definitely has tension and despite not being a horror fan, I'm curious about what is going to happen, and what (if anything) the explanation is for the horrors. I'll probably give the second volume a try.
Rating: 3/5