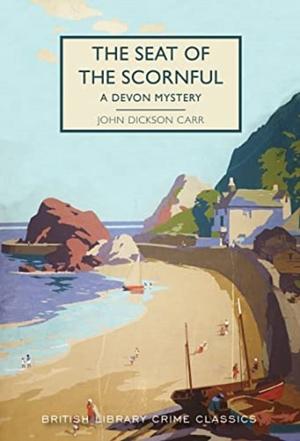 The Seat of the Scornful
Genres:
Crime
,
Mystery
Pages:
240
Series:
Dr Gideon Fell #14
Rating:

Synopsis:

Judge Horace Ireton didn't care about the letter of the law. He was interested in administering absolute, impartial justice as he saw it. To some, his methods of meting out justice made him seem hardly human, for they were coldly calculated - the same type of "cat and mouse" technique that he used in his chess games with Dr. Gideon Fell, the elephantine detective. The system, as he explained it, consisted in "letting your opponent think he's perfectly safe, winning hands down: and then catch him in a corner." But the system was not infallible. One day Judge Ireton was found with a pistol in his hand, beside the body of his daughter's fiancé, a man he had every reason to dislike, as many people knew; and he found that when one was on the inside looking out, the game had to be played differently.
I really thought I disliked John Dickson Carr's writing, and didn't pick up most of his books republished in the British Library Crime Classics series. It seems I was wrong: after I enjoyed He Who Whispers, I decided to give a couple more a shot, and this is the first one I got to. It concerns a judge who is particularly merciless in court, dealing out justice according to his own sense of it, who becomes entangled in a murder case — the murder of his daughter's undesirable fiancé.
It's not the usual locked-room puzzle, but more of a puzzle of how people work, and how appearances can be made to serve one narrative or another. It has a bit more humanity to it than some of Carr's other books (perhaps ones written earlier), and the characters feel a little more real, a little less like archetypes acting out their stories.
It made for a fun puzzle, at least, and I'm convinced enough to try reading John Dickson Carr's other novels — clearly they can be either hit or miss for me, and must each be judged on their own merits, despite my run of bad luck with his other work that I'd read before.
Rating: 3/5