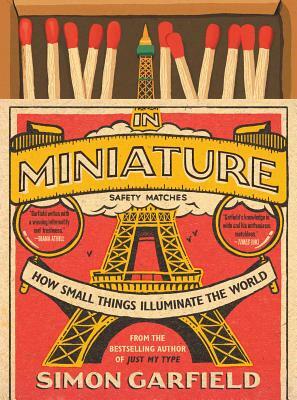 In Miniature: How Small Things Illuminate the World
Genres:
History
,
Non-fiction
Pages:
335
Rating:

Synopsis:

Simon Garfield writes books that shine a light on aspects of the everyday world in order to reveal the charms and eccentricities hiding in plain sight around us. After beguiling fans with books about everything from typography to time, from historic maps to the color mauve, he's found his most delightful topic yet: miniatures.

Tiny Eiffel Towers. Platoons of brave toy soldiers. A doll's house created for a Queen. Diminutive crime scenes crafted to catch a killer. Model villages and miniscule railways. These are just a few of the objects you will discover in the pages of In Miniature.

Bringing together history, psychology, art, and obsession, Garfield explores what fuels the strong appeal of miniature objects among collectors, modelers, and fans. The toys we enjoy as children invest us with a rare power at a young age, conferring on us a taste of adult-sized authority. For some, the desire to play with small things becomes a desire to make small things. We live in a vast and uncertain world, and controlling just a tiny, scaled-down part of it restores our sense of order and worth.

As it explores flea circuses, microscopic food, ancient tombs, and the Vegas Strip, In Miniature changes the way we perceive our surroundings, encouraging all of us to find greatness in the smallest of things.
I rather love small things myself — small ereaders (please, please, Onyx Boox Palma, fall into my hands somehow!)*, small books, etc. When I was little, I used to make tiny books for my teddies, and there was a whole miniature library as a result, with multiple bookcases for different genres. So I was attracted to the premise of this book by Simon Garfield, though the nature of the miniatures it discusses are heterogeneous.
I didn't actually love the chapter on miniature books, because the super, super small stuff you can only appreciate with a microscope does not appeal. I like books that are tiny but readable, so the books in Queen Mary's doll's house and the chapter on that appeals more.
It's a bit of a random collection of anecdotes in the end, but it captures some of the magic of miniature things, some of the motivation that leads people to make them and look at them. I wouldn't mind a look at some of the described exhibits, myself.
* Since I wrote this review, it did! Or, you know, I bought it, like a sensible person. And yes, it's really awesome.
Rating: 4/5