I'm a thirty-four-year-old currently living in Yorkshire with my wife and three rabbits.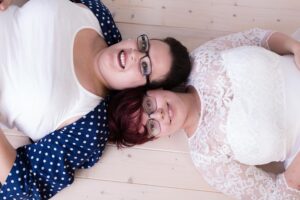 I'm a freelancer, and I get my work through the internet, so it doesn't matter really where exactly I am. You'll run into me doing user support for Beeminder, Taskratchet and Postcrossing! I'm currently studying at the London School of Hygiene and Tropical Medicine, doing my MSc in Infectious Diseases.
Books are my main hobby, though I've been known to dabble in cross-stitch and crochet, and I play a fair number of video games. You can find me in Final Fantasy XIV most evenings, on Cerberus, under the name of Eirian Evanna.
My family would probably say that books have always taken up most of my life. Anecdote: I couldn't read until after most of the people in my class other than the dyslexic students, whereupon I went from Cat and Mouse books to The Hobbit in less than a year. I think my parents more or less gave up trying to get me to bed on time after that. They'd have had to confiscate every book in my room to stop me staying up way into the night. Sometimes they tried, but… it never stuck.
I'm still as prone to staying up all night with a book now, and even as a student much preferred that to a night of partying. Hence this blog!
I review many of the books I read here, including all the ARCs I receive… eventually. If you'd like me to review your book or a book you're publicising, then please see this post. I'm not always open to reviewing, especially when I've already taken on many commitments, because I do take it seriously.
If you're curious about what exactly I read and what you're going to see me posting about, see also this post: What I read. In short: everything. Fiction, non-fiction, poetry, classics, contemporary, sci-fi and fantasy, comics, crime… I'm a gigantic nerd.
Note: The content of this page changes as I change, so the comments may not seem relevant anymore! Last updated: 20/10/2023