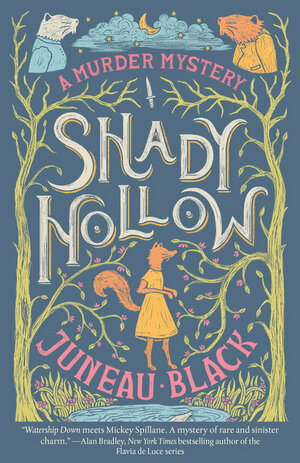 Shady Hollow
Genres:
Crime
,
Fantasy
,
Mystery
Pages:
208
Series:
Shady Hollow #1
Rating:

Synopsis:

The first book in the Shady Hollow series, in which we are introduced to the village of Shady Hollow, a place where woodland creatures live together in harmony — until a curmudgeonly toad turns up dead and the local reporter has to solve the case.

Reporter Vera Vixen is a relative newcomer to Shady Hollow. The fox has a nose for news, so when she catches wind that the death might be a murder, she resolves to get to the bottom of the case, no matter where it leads. As she stirs up still waters, the fox exposes more than one mystery, and discovers that additional lives are in jeopardy.

Vera finds more to this town than she ever suspected. It seems someone in the Hollow will do anything to keep her from solving the murder, and soon it will take all of Vera's cunning and quickness to crack the case.
Juneau Black's Shady Hollow fell into my hands right when I needed something to restore my faith that I actually enjoy reading and don't just do it because I always have. In theory I was still fascinated by books, but in practice everything seemed a bit tedious — and then I came across Shady Hollow from someone's Top Ten Tuesday blog post, and decided… I'll just give it a chance.
In the end, it's basically a mystery story like so many others… except that the characters are all animals. Our heroine is a fox, the police detective is a bear, the medical examiner is a snake, and the guy who sells everyone coffee is a moose. If you stop too long to wonder about it, you'll get jolted out of the story — how does a raven turn the pages of a book, or a moose serve coffee? But you can just settle in and enjoy what there is, and the way the animals' abilities occasionally give things a bit of flavour (like Lenore's ability to fly), and the way the various different animals interact.
(And of course, of course, a beaver runs the sawmill. Of course.)
In the end, the mystery didn't surprise me much, and I was a bit disappointed that while abilities like flight are used, it doesn't mention scent at all. Vera's a fox! There's surely some degree of ability to track there — and Orville too!
But mostly I just had fun, and breezed straight through the book, and felt immensely grateful it fell into my paws — sorry, hands — right now.
Rating: 4/5