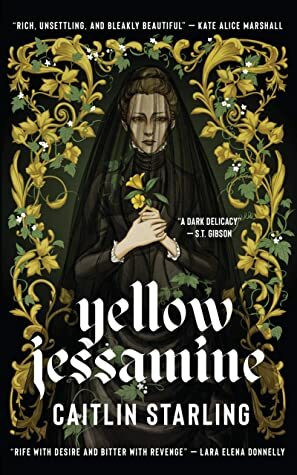 Yellow Jessamine
Genres:
Fantasy
,
Horror
Pages:
140
Rating:

Synopsis:

Powerful shipping magnate Evelyn Perdanu lives a tight, contained life, holding herself at a distance from all who would get close to her. Her family is dead, her country is dying, and when something foul comes to the city of Delphinium, the brittle, perilous existence she's built for herself is strained to breaking.

When one of her ships arrives in dock, she counts herself lucky that it made it through the military blockades slowly strangling her city. But one by one, the crew fall ill with a mysterious sickness: an intense light in their eyes and obsessive behavior, followed by a catatonic stupor. Even as Evelyn works to exonerate her company of bringing plague into her besieged capital city, more and more cases develop, and the afflicted all share one singular obsession: her.

Panicked and paranoid, she retreats to her estate, which rests on a foundation of secrets: the deaths of her family, the poisons and cures that hasten the dissolution of the remaining upper classes, and a rebel soldier, incapacitated and held hostage in a desperate bid for information. But the afflicted are closing in on her, and bringing the attention of the law with them. Evelyn must unearth her connection to the spreading illness, and fast, before it takes root inside her home and destroys all that she has built.
Caitlin Starling's Yellow Jessamine is a horror novella, following a young woman who fell heir to her family's estate and business after the tragic deaths of all her family. Evelyn Perdanu likes to tightly control her life, managing the business around the war that will all too soon come to her home, and managing her household according to her own (slightly eccentric) needs. Her solace is her garden, where the things she grows can both heal and harm.
Slowly, the extent of what she does becomes clear — in response to the sudden appearance of something like a new plague, which leaves people empty and catatonic, after a brief period of total obsession with Evelyn. It's all very creepy and tense, both with the plague and with the fear of the enemy and the eventual death of the town, and the fear of being found out for what she's done.
Where it failed for me is that Evelyn is hard to pity, since she's ruthless despite her fragility. She thinks nothing of blinding a man, even as she's supposed to be nursing him to health. Poison is an answer that comes easily to her hand. It's hard to feel sorry for her — for me at least — given how culpable she is. Points for atmosphere, but the character didn't work for me: just a step too far into her own private madness to ever seem sane and worth investing in as a reader.
Rating: 3/5