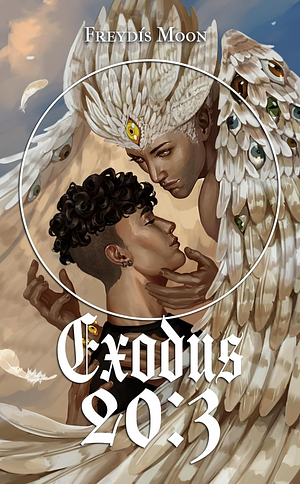 Exodus 20:3
Genres:
Fantasy
,
Romance
Pages:
92
Rating:

Synopsis:

Religious eroticism and queer emancipation meet in a claustrophobic monster-romance about divinity, sexuality, and freedom.

When Diego López is guilted by his mother into taking a low-key construction job in New Mexico, he doesn't expect to be the only helping hand at Catedral de Nuestra Señora de Guadalupe. But the church is abandoned, decrepit, and off the beaten path, and the only other person for miles is its handsome caretaker, Ariel Azevedo.

Together, Diego and Ariel refurbish the old church, sharing stories of their heritage, experiences, and desires. But as the long days turn into longer nights, Diego begins to see past Ariel's human mirage and finds himself falling into lust—and maybe something else—with one of God's first creations.
Like the other book by Freydís Moon that I've read, this features a trans masc protagonist, who is infinitely more messed up and unsupported, and stumbles into a strange situation he doesn't fully understand in order to try and pay back his debts to his family after some big mess-ups. Diego's supposed to be restoring a church, but he quickly suspects there's something very unusual about Ariel and he's both drawn to him and scared of him — and scared of what he may offer.
Spoilers ahead, now: I suspect that there are readers who would be completely repelled by the spirituality of this book, since it features an angel who is determined to show Diego God's love through sex and physicality. And seems to succeed, to a large degree.
Sex is a big focus of the story here, and Diego's more personal level of connection to Ariel isn't really explored as much — only his lunge at the forgiveness offered, at the grace he can be shown. As a novella, it doesn't have room to do a lot, and the intensity of those scenes is definitely well done — I'd just hoped for a bit more understanding of Ariel, as well.
Rating: 3/5