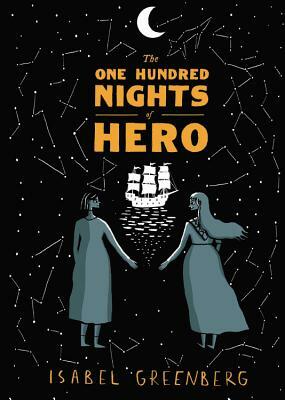 One Hundred Nights of Hero
Pages:
224
Rating:

Synopsis:

In the tradition of The Arabian Nights, a beautifully illustrated tapestry of folk tales and myths about the secret legacy of female storytellers in an imagined medieval world.

In the Empire of Migdal Bavel, Cherry is married to Jerome, a wicked man who makes a diabolical wager with his friend Manfred: if Manfred can seduce Cherry in one hundred nights, he can have his castle -- and Cherry.

But what Jerome doesn't know is that Cherry is in love with her maid Hero. The two women hatch a plan: Hero, a member of the League of Secret Story Tellers, will distract Manfred by regaling him with a mesmerizing tale each night for 100 nights, keeping him at bay. Those tales are beautifully depicted here, touching on themes of love and betrayal and loyalty and madness.
The One Hundred Nights of Hero is a fun take on the Scheherazade-type story, in graphic novel form. I quite enjoyed the art, though a few of the female characters who were mentioned very briefly aren't very distinguishable from other female characters who are mentioned briefly (which is really kind of ironic, given the strong feminist bent of the story — though I'm not very good with noticing small details, so this is probably partly on me).
It's not terribly original, but it works, and I enjoyed reading it. I did find the lettering and colouring a little distracting at times: it's all very deliberately quirky and stylised, and sometimes it's difficult for me then to know where I'm supposed to be following the panels, or to make out the text.
This feels like I'm damning it with faint praise, but I enjoyed myself reading it, and I'd happily give it as a gift or recommend it to people. It just didn't completely blow me away the way it did some others.
Rating: 4/5