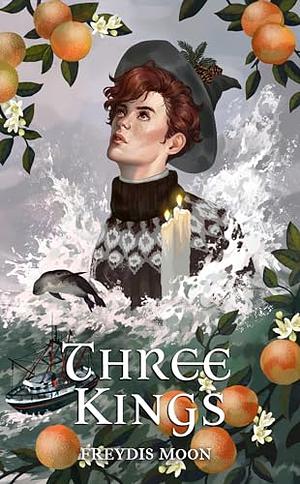 Three Kings
Genres:
Fantasy
,
Romance
Pages:
154
Rating:

Synopsis:

Ethan Shaw — lighthouse keeper and local witch — lives a charmed life in his chilly, coastal hometown. Blessed with a flourishing garden and a stable livelihood, Ethan can't complain. But when his husband, Captain Peter Vásquez, brings home a wounded leopard seal after an impromptu storm, Ethan is faced with a curious situation: caring for a lost selkie named Nico Locke.

As Ethan struggles with the possibility of being infertile, insecurities surrounding his marriage, and a newly formed magical bond with a hostile, handsome selkie, his comfortable life begins to fracture. But could breakage lead to something better?

With autumn at their heels and winter on the horizon, Ethan, Peter, and Nico test the boundaries of a new relationship, shared intimacy, and the chance at a future together.
Freydís Moon's Three Kings is a m/m/m romance where one of the protagonists (the character we follow most closely) is a trans man. Just to be clear up front since I think some people would find this difficult to read (for a bunch of reasons), the novella focuses partly on Ethan's problems with conceiving, after months of trying to start a family with his husband Peter, and with his feelings of worthlessness as a result.
It also involves a selkie called Nico who is bad-tempered and distrustful, and can't entirely be blamed for it, since he's injured due to being caught in Peter's nets. Ethan is a witch and uses his power to bring Nico back to life, forging a connection between the two of them — and over the following days, as Nico heals, another connection begins to grow. What's enjoyable is that Peter and Ethan's relationship is rock-solid, and they don't bring in Nico as some kind of fix for their problems: they've got that covered, and this is just about their connection with Nico, as Nico, not as a stop-gap or a patch or anything like that.
It's also worth noticing that there's some dubious consent here — while everyone's into one another and it seems inevitable that they're going to explore it, they also accidentally take a magical aphrodisiac. They're all happy about it and there are no regrets, but that's an important theme here that I wouldn't want someone to be startled by.
In any case, I found the book smuttier than I'd have liked, not because I'm being a prude, but because it feels like that slightly took the place of the three of them working through their awkwardnesses, getting to know each other, and forging something based on their personalities. There are hints that it can happen, that it will happen… but it doesn't really happen here.
Rating: 4/5