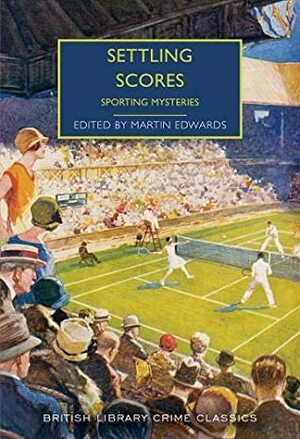 Settling Scores: Sporting Mysteries
Genres:
Crime
,
Mystery
,
Short Stories
Series:
British Library Crime Classics
Rating:

Synopsis:

Talented sportsmen inexplicably go absent without leave, crafty gamblers conspire in the hope of making a killing, and personal rivalries and jealousies come to a head on fields of play The classic stories in this new British Library anthology show that crime is a game for all seasons.
I thought I'd read these sporting mysteries (in this collection curated by Martin Edwards) in honour of the Rugby World Cup, the only sport I have so far managed to care about or even half-understand. The majority of these stories need no sporting knowledge at all to understand and follow; the sporting environment is just the backdrop. Even where you do need to know something, it's fairly minimal.
It's not a bad spread of stories, though the tone varies a bit (some stories feel rather brutal, and one involves spies and espionage, etc). Not one of my favourite collections, perhaps, but the sporting types might appreciate it a bit more. I did appreciate that it wasn't just football and cricket stories or something — there was an archery story included, for example.
As ever, the collection is greater than the sum of its parts: it's nice to read across a spread of the classic crime/mystery writers, and not just the biggest names, though there is (inevitably) a story by Arthur Conan Doyle.
Rating: 3/5