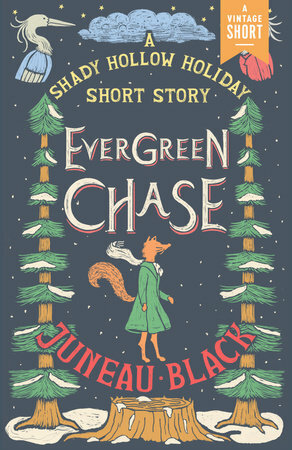 Evergreen Chase
Genres:
Fantasy
,
Mystery
,
Short Stories
Pages:
32
Series:
Shady Hollow #3.5
Rating:

Synopsis:

It's the winter solstice in Shady Hollow, that magical time of year when creatures of all shapes and sizes come together to honor the season and eat as much pie as possible. Reporter Vera Vixen is eager to experience her first holiday in town and is especially looking forward to the unveiling of the solstice tree. But then disaster strikes. The year's tree—the tallest in the forest—has disappeared without a trace. Can Vera, her best friend, Lenore, and Deputy Orville Braun find the tree and save the season? Or will this year's solstice be especially dark?
Evergreen Chase is a short story in Juneau Black's Shady Hollow mystery series, with a slightly lower-stakes mystery that's appropriate for the winter season. The creatures of Shady Hollow are due to celebrate the winter solstice with the proper pomp and circumstance — traditions many look forward to all year — when the tree ear-marked to stand in the centre of town is… stolen?! How do you steal a tree?
As ever with this series, the culprit is fairly easy to guess, and even more so because of the length of the story. It's still a good chance to check in on some lovely characters, and to experience the cosy charm of Shady Hollow for a little longer. The denouement is predictably satisfying: needless to say, the world is set to rights.
I think one of my favourite things is actually the characterisation of Lefty, a raccoon who's always up to no good… but tries not to do too much bad either. Petty larceny is about the size of it, and when someone's spoiling the season, Lefty's doing his best to help. Quietly. Sneakily. And don't tell anyone!
Rating: 3/5