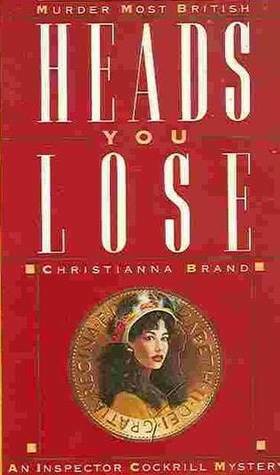 Heads You Lose
Genres:
Crime
,
Mystery
Pages:
159
Series:
Inspector Cockrill #1
Rating:

Synopsis:

Pigeonsford Estate is playing host to a group of close friends when one of their number, Grace Morland, is found dead in a ditch. The murder is made even more unusual by the fact that Grace was wearing her friend Francesca's hat, the same hat that only the day before she'd claimed she wouldn't be caught dead wearing. Inspector Cockrill has known most of the friends since they were children. They are all from good families and very close to one another; how, then, could one of them be a cold-blooded killer? And if one of them had murdered Grace which one was it and why had they done it?
Heads You Lose did some very interesting things, from my point of view: the sympathy with a particular character was genuinely affecting, to me at least, and I'm noting some patterns with her work that intrigue me. As a story, though, there were a few things that bothered me. It's a bit spoilery to go into them in depth, so I'll just start by saying that I think in the end I'd say it was worth reading, at least for me as a fan of this period of mystery/crime fiction, but I do have caveats and content warnings to go with that.
The main caveat is the fact that the plot hinges on the oft-derived trope of a mentally ill killer, one who has blackouts and commits crimes unbeknownst to himself. That means the third-person narration is sometimes a bit unreliable, as it sticks close to particular characters' POV, and thus misleads the reader. You have to read very closely to catch the clue, and of course you're not looking there for it.
I did think that the ending was rather better than the "psycho killer with blackouts" trope portended. There's a lot of pathos in the ending for that particular character and how it comes about.
I would also note that there's a Jewish character who is treated somewhat sympathetically, and yet at the same time with some anti-Semitic tropes. Of course this was common in the crime fiction in and around the Golden Age (Dorothy L. Sayers did similar in Whose Body?), but it's worth knowing going in.
I am noticing that Brand doesn't do much bringing her villains to justice. They usually die in some kind of appropriate way — not in the way that some other detective novels do, with a "you should write a confession and shoot yourself, or I'll put the police in possession of what I know", but still, they each die. It has less of a "detective as judge and jury" ring, and more like… "the universe will put things right, somehow". Either way, an interesting thing to note, as I read more of Brand's work.
Rating: 3/5