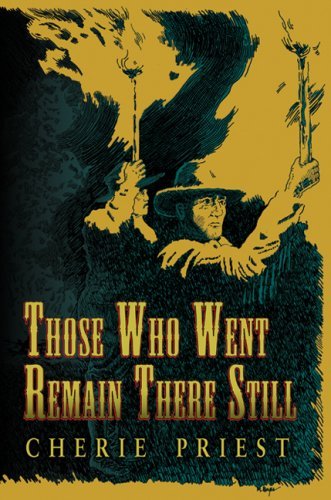 Those Who Went Remain There Still, Cherie Priest
I didn't get on with the first Cherie Priest book I read (Boneshaker), but I enjoyed Bloodshot and Hellbent enough that I'm starting to try her other stuff. It seems like she can be a bit hit and miss, with me: I wasn't a big fan of Four and Twenty Blackbirds, either, but I enjoyed this short horror novella. It's mostly the atmosphere that works, the fact that she invokes her three narrators' voices well, brings to life the valley and the simmering resentment between the two halves of the family.
She doesn't over-explain or even over-describe her monster, letting it be more frightening because the characters have no idea, because we can't even really picture it. It's just a fear in the dark, huge and formless, and I think that stories that invoke that are really the horror stories that work. It ends abruptly, without any consolation or certainty, and I really like that — I like that Cherie Priest knew when to stop the story and let the reader go on uncomfortably wondering, because it takes as much skill to know when to do that as to carry a story through right to the inevitable end, if not more.
Still, her narrators are still somewhat talkative, and I don't think this is one my partner will be enjoying anytime soon, since she didn't get into Bloodshot with its more engaging (to my mind, anyway) narrator and characters. It's not exactly creepy — or maybe with my anxiety issues I just can't tell when I'm creeped out and when I'm just normally jumpy — but it's intriguing and has that breathless, edge of the seat quality where it counts.