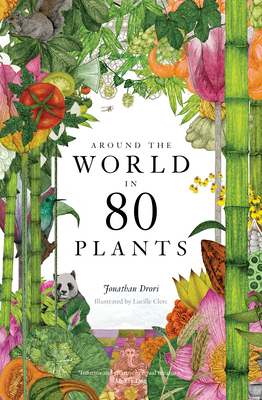 Around the World in 80 Plants
Genres:
History
,
Non-fiction
,
Science
Pages:
216
Rating:

Synopsis:

Jonathan Drori takes a trip across the globe, bringing to life the science of plants by revealing how their worlds are intricately entwined with our own history, culture and folklore. From the seemingly familiar tomato and dandelion to the eerie mandrake and Spanish "moss" of Louisiana, each of these stories is full of surprises. Some have a troubling past, while others have ignited human creativity or enabled whole civilizations to flourish. With a colorful cast of characters all brought to life by illustrator Lucille Clerc, this is a botanical journey of beauty and brilliance.
The first thing to know is that this book is beautifully illustrated by Lucille Clerc, full colour, at least one full-page image per plant. Sometimes these images show details of the plants, and sometimes they include aspects of the accompanying text explanation.
Jonathan Drori's discussion of each plant is often brief, and the order is not necessarily in order of the origin of a given plant, but rather a place where they might be encountered now, along with the story of how they got there. The stories vary by plant, often including the human history of how we've used the plant, and what the plant has done for us.
I found it fascinating, and I'm definitely passing this on to the plant lover in my life; I think he'll enjoy it even more.
Rating: 5/5