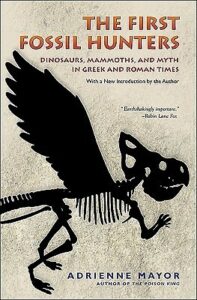 The First Fossil Hunters: Dinosaurs, Mammoths and Myth in Greek and Roman Times
Genres:
History
,
Non-fiction
,
Science
Pages:
400
Rating:

Synopsis:

Griffins, Cyclopes, Monsters, and Giants--these fabulous creatures of classical mythology continue to live in the modern imagination through the vivid accounts that have come down to us from the ancient Greeks and Romans. But what if these beings were more than merely fictions? What if monstrous creatures once roamed the earth in the very places where their legends first arose? This is the arresting and original thesis that Adrienne Mayor explores in The First Fossil Hunters. Through careful research and meticulous documentation, she convincingly shows that many of the giants and monsters of myth did have a basis in fact -- in the enormous bones of long-extinct species that were once abundant in the lands of the Greeks and Romans.
I really enjoyed this exploration and analysis of what the ancient Greeks and Romans thought of ancient fossils that they found and clearly noticed, collected and wondered about; the idea that they were "too big to be noticed" never sat right with me, even though it did seem weird that mostly the major philosophers didn't comment on the subject (despite that well-known commentary on seashells demonstrating the presence of a long-lost sea in a given location).
I think that sometimes Mayor does go beyond her evidence — we just can't be that certain, though she lays out some good evidence that tales of the existence of gryphons could've been sparked, in Greece, by second-hand travellers' tales. I found that aspect of her discussion a bit thin, because there's stuff in Greek mythology that is equally well or better explained by someone making stuff up.
That said, her discussion of "heroes' bones" makes a lot of sense, and I do think it's likely that stuff in Greek mythology references aspects of the world the Greeks didn't understand, or didn't properly understand anyway.
Rating: 4/5