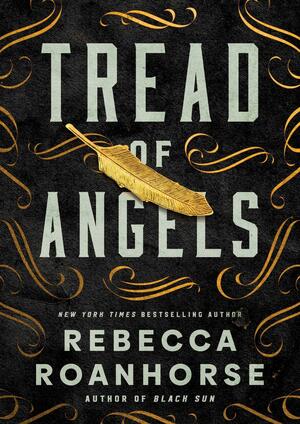 Tread of Angels
Genres:
Fantasy
Pages:
201
Rating:

Synopsis:

Celeste, a card sharp with a need for justice, takes on the role of advocatus diaboli, to defend her sister Mariel, accused of murdering a Virtue, a member of the ruling class of this mining town, in a new world of dark fantasy from the New York Times bestselling author of Black Sun, Rebecca Roanhorse.

The year is 1883 and the mining town of Goetia is booming as prospectors from near and far come to mine the powerful new element Divinity from the high mountains of Colorado with the help of the pariahs of society known as the Fallen. The Fallen are the descendants of demonkind living amongst the Virtues, the winners in an ancient war, with the descendants of both sides choosing to live alongside Abaddon's mountain in this tale of the mythological West.
I really enjoyed Tread of Angels. I was probably only partly on board, right up until the end, because it felt like the main character (Celeste) was being a bit stupid about something that was right in front of her face. It felt like everything was going to be just a bit too predictable — enjoyable, but not something that would stick in my mind. And then, at the end… consequences.
In the end, I still can't give it five stars, because holy crap, Celeste, how are you so stupid? And how do you keep taking such terrible advantage of everyone around you? It's a wonder you've managed any friends at all… That part didn't quite make sense to me, because the profound selfishness of Celeste made me wonder how her friends hadn't seen it.
But something about the ending surprised me; I don't want to say too much, but it made me re-evaluate a certain character and decide that he probably was more interesting than I'd initially written him off as. The book from his point of view certainly would've been something.
In the end, it strikes a sad note, but it works really well.
Rating: 4/5