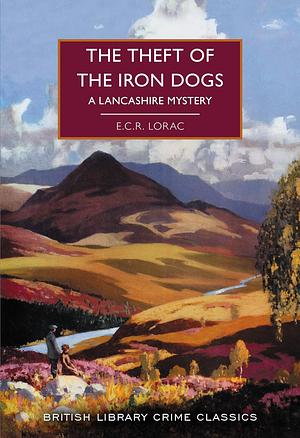 The Theft of the Iron Dogs
Genres:
Crime
,
Mystery
Pages:
284
Series:
British Library Crime Classics
Rating:

Synopsis:

While hot on the heels of serial coupon-racketeer Gordon Ginner, Chief Inspector MacDonald of Scotland Yard receives word of an intriguing incident up in Lancashire – the summer cottage of local farmer Giles Hoggett has been broken into, with an assortment of seemingly random items missing which include a complete reel of salmon line, a large sack, and two iron dogs from his fireplace.

What first appears to Insp. MacDonald as a simple break-in quickly spirals into a mystery of contested land grabs for fishing between farmers, made all the more enticing to MacDonald when a body is then found in the river – the body of Gordon Ginner. It's up to Insp. MacDonald, aided by the locals of Lunesdale, to determine who broke into Hoggett's cottage, where his irons dogs have gone, and how Ginner met his watery end.
For my money, E.C.R. Lorac is one of the finest classic crime writers. She writes compelling mysteries with an amazing sense of place and setting, and characters who are enjoyable, if sometimes idealised. There's a sense with her books that the mysteries arise out of place and personality, rather than coming up with a mystery and then inventing a setting to fit around it, which is probably true if Martin Edwards' introductions about Lorac and her love for Lunesdale are true.
The Theft of the Iron Dogs returns to Lunesdale, in fact, and the mystery is only unravelled because the people of the area have habits, patterns and expectations which aren't obvious to people from outside the area, meaning the cover-up of the crime isn't as perfect as the perpetrator thinks. The story features Macdonald, of course, Lorac's series detective, with his usual conscientiousness and care, and his sense of compassion for the people affected by his investigations.
It's a slow one, country-paced, in a way that feels right for the place and the story. I really enjoyed this one, and though the crime itself is not terribly "cosy" (is any crime?), the overall feel is a pretty cosy, lower-stakes kind of story.
Rating: 4/5