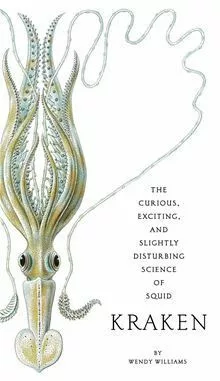 Kraken: The Curious, Exciting, and Slightly Disturbing Science of Squid
Genres:
Non-fiction
,
Science
Pages:
223
Rating:

Synopsis:

Kraken is the traditional name for gigantic sea monsters, and this book introduces one of the most charismatic, enigmatic, and curious inhabitants of the sea: the squid. The pages take the reader on a wild narrative ride through the world of squid science and adventure, along the way addressing some riddles about what intelligence is, and what monsters lie in the deep. In addition to squid, both giant and otherwise, Kraken examines other equally enthralling cephalopods, including the octopus and the cuttlefish, and explores their otherworldly abilities, such as camouflage and bioluminescence.
Kraken was okay, but I felt the lack of numbered footnotes and felt it was all pretty slight, relying on personal interview and recounting of encounters between people and squid, rather than focusing on squid directly. There are endnotes with a few pages of sources, but it's impossible to match up anything said in a specific chapter with the sources, which are just alphabetised.
It's pretty readable, and there are some interesting anecdotes, but it feels like the author didn't really had enough material — even padding out the book with a chapter on octopodes, instead of staying focused on squid. (Of course they are related, but the chapter wasn't about the similarities/differences so much, just spent time describing a specific encounter with an octopus and such.)
So overall, it was okay, and there was some new-to-me information, but… ultimately, nothing too surprising, and no moments where I wanted to turn to someone and say "hey, did you know…?"
Rating: 2/5