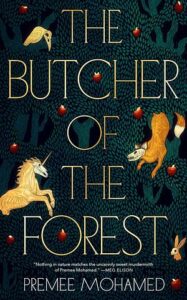 The Butcher of the Forest
Genres:
Fantasy
Pages:
160
Rating:

Synopsis:

At the northern edge of a land ruled by a monstrous, foreign tyrant lies the wild forest known as the Elmever. The villagers know better than to let their children go near—once someone goes in, they never come back out.

No one knows the strange and terrifying traps of the Elmever better than Veris Thorn, the only person to ever rescue a child from the forest many years ago. When the Tyrant's two young children go missing, Veris is commanded to enter the forest once more and bring them home safe.
Received to review via Netgalley
The main character of this novella, Veris, once went into the forest to save a child. It's no ordinary forest, and her journey is the only time anyone has been known to be successful in entering and leaving the forest, let alone bringing a lost child back. When the local Tyrant's children go missing, he has her brought to him: she must go and retrieve his children, or he will kill her family.
Well, what choice does she have? It's an interesting set-up, since she's a middle-aged protagonist, and she's full of aches and pains as she makes her way into the forest — and she's no great witch, holds no great power to find her way, just a bit of knowledge and some luck. And the luck's tenuous.
It's a genuinely creepy story in that tense sort of way, with a lot of blank spots at the edge of the canvas of things we don't really get to see/understand. The focus is on Veris' journey, and her efforts to find the children, despite the sense that there's so much more going on.
I found it enjoyable, though I'm still sort of letting it settle.
Rating: 4/5