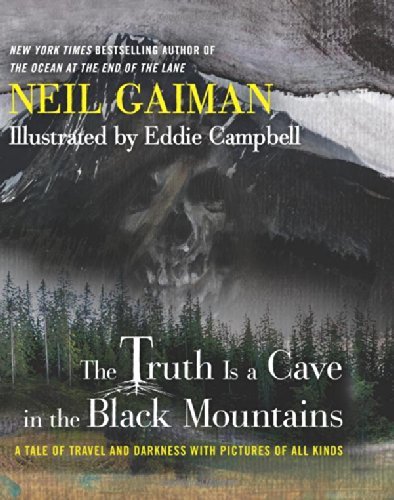 Truth is a Cave in the Black Mountains, Neil Gaiman, Eddie Campbell
I got this to review from Headline via Bookbridgr. Like I needed another source of goodies! Anyway, I hadn't read this short story before, so my first experience of it was this version with Eddie Campbell's illustrations and the slightly odd partial graphic novel format (which I wanted to kill with fire because for whatever reason I found the lettering hard to decipher, I don't know if I'm the only one).
Viewed as a sort of fable/folk tale, I enjoyed it. The structure is great, too: the slow unspooling of information so that it all comes together close to the end, and if you were to start reading it again right away, you could appreciate the little clues. The art worked well for me, too, slightly unsettling and vivid, without any attempt to be photo-realistic.
What didn't work for me so well was the treatment of women. The frankly unnecessary rape scene in the middle — I'm not going to tone it down and say it was "almost" a rape scene: it was a man having sex with his frightened wife after beating her, let's call it what it is — and the idea of an independent, fierce young woman dying because her hair is tied to a thorn bush. That sort of works in a fairytale sense, but in reality… if I had to separately break every strand of my hair to get free, I would (yes, even back in the days when I had long hair and it was my pride and joy). I'm pretty sure 99% of people with long hair would value their lives over their hair.
And you know, the main character… I could forgive him wanting vengeance, and I could forgive him for the thing he can't forgive himself for. What I can't forgive him for is lying there on the floor of a hut where a woman has given him hospitality while she is beaten and raped for doing so — after he got her to come out from where she was hiding with promises she wouldn't be harmed. Especially as it's all focused on how uncomfortable he thinks about it — I'm pretty sure a woman in that situation would be feeling worse.
I know it's set in a different culture, etc, etc, but it isn't even necessary to the narrative or characterisation. Passing the woman's husband outside would yield the same information, and we could avoid the whole sorry episode.
Rating: 3/5