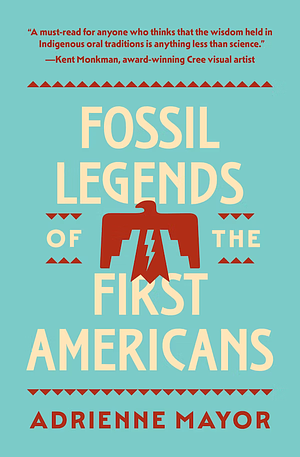 Fossil Legends of the First Americans
Genres:
History
,
Non-fiction
,
Science
Pages:
488
Rating:

Synopsis:

The burnt-red badlands of Montana's Hell Creek are a vast graveyard of the Cretaceous dinosaurs that lived 68 million years ago. Those hills were, much later, also home to the Sioux, the Crows, and the Blackfeet, the first people to encounter the dinosaur fossils exposed by the elements. What did Native Americans make of these stone skeletons, and how did they explain the teeth and claws of gargantuan animals no one had seen alive? Did they speculate about their deaths? Did they collect fossils?

Beginning in the East, with its Ice Age monsters, and ending in the West, where dinosaurs lived and died, this richly illustrated and elegantly written book examines the discoveries of enormous bones and uses of fossils for medicine, hunting magic, and spells. Well before Columbus, Native Americans observed the mysterious petrified remains of extinct creatures and sought to understand their transformation to stone. In perceptive creation stories, they visualized the remains of extinct mammoths, dinosaurs, pterosaurs, and marine creatures as Monster Bears, Giant Lizards, Thunder Birds, and Water Monsters. Their insights, some so sophisticated that they anticipate modern scientific theories, were passed down in oral histories over many centuries.

Drawing on historical sources, archaeology, traditional accounts, and extensive personal interviews, Adrienne Mayor takes us from Aztec and Inca fossil tales to the traditions of the Iroquois, Navajos, Apaches, Cheyennes, and Pawnees.
Fossil Legends of the First Americans felt a bit… slower than Mayor's book on the fossil knowledge of Greek and Roman culture. In part, it's because there's just more ground to cover, but also there's a certain repetitiveness to each chapter in her gradual survey of the whole area.
I do see her point that these indigenous peoples definitely interacted with fossil bones, and definitely came to an understanding of them — seeing them as evidence of deep time, and even perhaps a form of evolution — but sometimes (as with the other book) it feels like grasping at straws. "Perhaps" they thought this or that, but we can't know that. So much knowledge has been lost, and so much is kept by indigenous communities and not shared with white people (for good reason).
It's an interesting survey of attitudes toward fossils and stories about fossils in indigenous American cultures, but that's as far as it can go.
Rating: 3/5