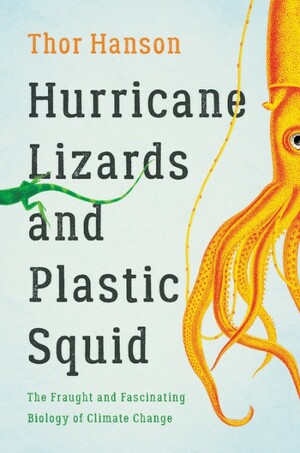 Hurricane Lizards and Plastic Squid
Genres:
Non-fiction
,
Science
Pages:
304
Rating:

Synopsis:

In Hurricane Lizards and Plastic Squid, biologist Thor Hanson tells the remarkable story of how plants and animals are responding to climate change: adjusting, evolving, and sometimes dying out. Anole lizards have grown larger toe pads, to grip more tightly in frequent hurricanes. Warm waters cause the development of Humboldt squid to alter so dramatically that fishermen mistake them for different species. Brown pelicans move north, and long-spined sea urchins south, to find cooler homes. And when coral reefs sicken, they leave no territory worth fighting for, so aggressive butterfly fish transform instantly into pacifists.

A story of hope, resilience, and risk, Hurricane Lizards and Plastic Squid is natural history for readers of Bernd Heinrich, Robin Wall Kimmerer, and David Haskell. It is also a reminder of how unpredictable climate change is as it interacts with the messy lattice of life.
I found this surprisingly optimistic, given that the topic is the way animals and plants are adapting to changing climates and ecosystem upheaval. Hanson presents a fairly hopeful picture, though he tries repeatedly to temper the hope with reality — the refugia that allow species to survive in tiny slices of microclimate aren't going to save species forever, and even those species which can move to a new place are causing immense disruption wherever they arrive.
I still fear that people will read this and come away with the feeling that everything will, somehow, be fine, because species are extraordinarily resilient and changeable. But as Hanson takes some pains to point out, that's only some species. The examples he gives are just a handful.
It's a very readable book, and fascinating: it ranges through a number of very different habitats, making its points.
Rating: 4/5