Heartstopper, vol 2, Alice Oseman
Volume 2 of Heartstopper basically just continues the adorableness. If you're not interested in a comic about a pair of boys — one gay, one bisexual — becoming friends, figuring out they're into each other, and coping with things like coming out and getting along with each other's friends, then it probably isn't for you. The art is all in the same style on the cover, kind of doodly, and somehow that makes it more adorable to me, as well as quite distinctive (though there's a couple of other artists with a similar sort of aesthetic).
I love the way Charlie and Nick are with each other; they have a couple of misunderstandings, and yes, one of those is at the start of this volume and is due to not actually communicating… but for the most part, they do communicate, and it's lovely.
Look! It's just adorbs: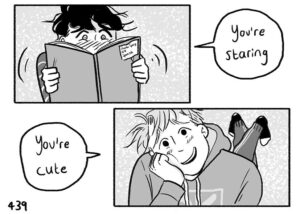 They're consistently adorable and I am so tempted to race ahead and read the whole darn thing. Buuut instead I'm being good and purchasing it volume by volume as it comes out.
(That Patreon with so many pages ahead is tempting, though…)
Rating: 4/5