Good morning, folks! As I write this, I'm about to take the little mister to the vet for what might be a fungal infection, so you get an adorable picture of him with my ereader — which he somehow turned on while I was out of the room…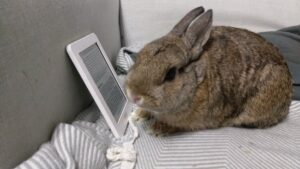 Update: it is not a fungal infection. He's just an idiot.
New books
Got these through being a patron of Ursula Vernon's on Patreon! Woo.
Read this week
Four stars: The Dragonbone Chair, Swordspoint.
Three stars: The Stars are Legion, Locust, The Horns of Ruin, Imagining Head-Smashed-In.
Reviews posted this week
–The Hanging Tree, by Ben Aaronovitch. A worthy and exciting entry to the series, but oh man, I want the Faceless Man plot to wrap up. It's not that it isn't awesome, but I'm worried about it getting stretched too thin. 4/5 stars
–Trouble and Her Friends, by Melissa Scott. Classic cyberpunk with a lot of queer people. It's slow-paced, but that works for it. 4/5 stars
–Spin, by Nina Allan. A fresh, if not surprising, retelling of a certain myth I enjoyed a lot. 4/5 stars
–The Rabbit Back Literature Society, by Pasi Ilmari Jääskeläinen. Male-gazey and unfocused. 2/5 stars
–The Other Log of Phileas Fogg, by Philip Jose Farmer. An interesting reworking of the original story, perhaps best enjoyed if you're familiar with Verne's work. 3/5 stars
–The Uses of Enchantment, by Bruno Bettelheim. Decidedly outdated and based on somewhat ridiculous Freudian concepts, but surprisingly enjoyable to read. 2/5 stars
–Friday's Child, by Georgette Heyer. A fun romance, as you'd expect, and I got rather caught up in what would happen even though really, you know the happy ending is inevitable. 4/5 stars
Other posts
–Top Ten Tuesday: Books I'm Thankful For. What it says on the tin.
–WWW Wednesday. The latest and greatest on my currently-reading pile.
How's everyone doing? Leave me a comment and don't forget to link your STS post or weekend wrapup; I always visit back as soon as I can!