Hey folks! I'm having a tired and overloaded week, so I'll try to make this quick!
What are you currently reading?​
A bunch of things, as ever! I'll keep it to the three most "on deck" at the moment: I'm reading Blackout, the third in Mira Grant's Newsflesh trilogy. I keep restarting the trilogy and having to reread the first book, because a lot of the themes are a bit anxiety-making for me, but this time I am determined to get all the way to the end. There's so much goodness here, even with the anxiety-making.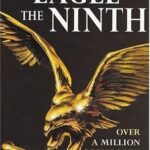 I'm also rereading The Eagle of the Ninth, by Rosemary Sutcliff. I love the way she put some historical facts together to make this story, and I love Marcus and Esca, and I love the fact that I've finally managed to track down another copy of the edition I read to pieces, with the illustrations that are so familiar and the right cover and everything (not the one pictured here). It's odd how much shorter some bits of the book seem now than I remember them to be. I had this with Narnia, too — I feel like as a child I roamed a lot freer in imagining the bits between chapters and scenes, and made it longer as an experience.
I've just started The Little Free Library by Kim Fielding, today, and I'm halfway through. The impulse-buying of books thing is — ouch! I feel called out. I'm finding the rapport between the love interests believable, though, and I'm enjoying watching them get where they're going.
What have you recently finished reading?​
Oof. I've been bad at actually finishing books, lately, so it might have been Mira Grant's Deadline. Bit middle booky, now I look back at it, though with some good stuff.
What will you be reading next?​
I really couldn't tell you. I just got Joyce Chng's Dragon Physician, and I'm intrigued. It's also short, which suits my current attention span.