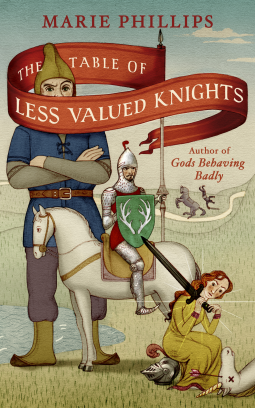 The Table of Less Valued Knights, Marie Phillips
I wasn't sure how I'd feel about this one when I requested it. On the one hand, I love Arthuriana and I have enjoyed several loose interpretations of it, even humorous/light-hearted ones. On the other hand, I'm not very good at humour myself, and can be a bit snooty about anything that messes too much with my views on Arthuriana.
It turns out, I really enjoyed it, and read it in pretty much one go. I love that while there is humour, it's pretty gentle: it doesn't single out any character as a laughing stock, and the characters aren't there just to be laughed at. They're still people, with goals of their own, and they're likeable people at that. I somewhat feared Sir Humphrey would just be a laughable oaf, but he turns out to be a good guy even if he doesn't subscribe to the kind of honour culture the Round Table stands for.
It is all very modern and anachronistic: there's customs officials between the kingdoms, for example, for the sake of absurdity. There's also pretty liberal views on LGBT people, including a knight who prefers to be called Gwendoline, and a gay relationship driving part of the plot.
All in all, it's fun, and I'm really glad I read it. The tone is maybe reminiscent of Gerald Morris, albeit for adults, but otherwise it's quite a fresh take on the idea of Camelot.
Rating: 4/5