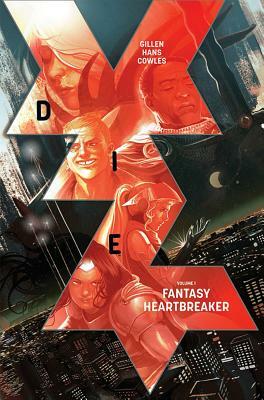 Die: Fantasy Heartbreaker
Pages:
184
Series:
Die #1
Rating:

Synopsis:

The Wicked + The Divine writer Kieron Gillen teams up with artist supernova Stephanie Hans (WicDiv, Journey Into Mystery) for her first ongoing comic. Die is a pitch-black fantasy where a group of forty-something adults have to deal with the returning, unearthly horror they only just survived as teenage role-players. If Kieron's in a rush, he describes it as ""Goth Jumanji"", but that's only the tip of this obsidian iceberg.
I'm intrigued by this story/world — which is really accurately described as a "Goth Jumanji" — and at the same time feel like I don't know what to say about it. Being just the first volume, it's just a glimpse of the world and of what the characters might be: there's lots of potential, lots of fucked-up emotional stuff for the characters, hints at how they relate to each other, etc… But it's just volume one, and so it's hard to judge where all that is going and how satisfying it might be.
It's just also pretty dark, and the characters are pretty much all flawed and fucked up, so it felt weightier than the relatively short length of the story so far, and left me not quite sure if I want to invest the time in reading more.
The art is great, at least, and there's definitely intriguing hints at what makes several characters tick. I think I'll probably give volume 2 a shot soon, before I forget who everyone is!
Rating: 3/5