Welp, it's been a quiet time on the blog since I've been doing plenty of work — and doing NaNoWriMo for the first time in years! Last weekend we went out on a trip to the lovely Portal Bookshop in York, which I thoroughly recommend, so I have a few new books! (Also some dead tree copies of beloved books I only had in ebook, but I won't list those too. Still, have this lovely pic of Biscuit investigating my haul!)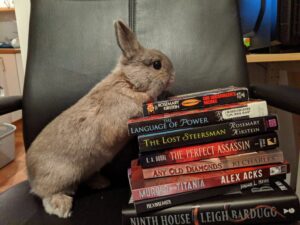 Books acquired:
Books read since the last roundup:
Reviews posted since the last roundup:
–Ancillary Mercy, by Ann Leckie. This remains a great favourite of mine, and one I'm sure I'll come back to again. 5/5 stars
–Murder at the Fitzwilliam, by Jim Eldridge. Kind of meh, despite a promising setting. 2/5 stars
–Excellent Intentions, by Richard Hull. Slightly odd format, interestingly carried out but a bit lacking in personality. 3/5 stars
–Women & Power: A Manifesto, by Mary Beard. The first essay is very worth the read; the second a bit less sure ground. 4/5 stars
–Lord Roworth's Reward, by Carola Dunn. An unsurprising but sweet Regency romance. 4/5 stars
–It's All In Your Head, by Suzanne O'Sullivan. Interesting discussion of psychosomatic illness, but simplifies things rather through idealised cases, and the chapter on ME/CFS would make folks I know see red. 3/5 stars
Other posts:
–WWW Wednesday. This week's update!
Out and about:
–NEAT science: 'Pain and hunger.' Can the sensation of hunger change how you perceive pain? Yep, there is good evidence that it can — in both directions.
–NEAT science: 'The biopsychosocial model of mental health.' A pet peeve and a cry for holistic care…
And whew, that's everything. How're you folks?