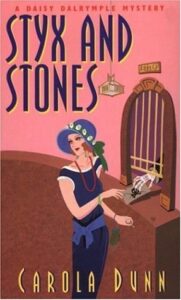 Styx and Stones, Carola Dunn
Styx and Stones is basically the same as the other Daisy Dalrymple books in its basic outline: somehow, Daisy ends up finding a dead body, and getting embroiled in the case to discover exactly what happened, despite Alec's best efforts. In this case, she gets involved because her brother-in-law asks for her help in a little matter of someone writing poison pen letters to him — and perhaps to various other people in the village. Taking Alec's daughter Belinda with her for a holiday, Daisy charges right in to see what can be done.
It's a generally enjoyable book, with Daisy enjoying the quiet village life and poking her nose in everywhere. Her reactions to the local Scarlet Woman are, as you'd expect from her character and the fact that she's designed to appeal to a modern reader, tentative but overall positive. As usual, she quickly decides who can't have done it, based on personal feelings, and lets that colour her whole view of the case — and lead her somewhat astray at times.
My enjoyment of this book is mostly marred by the fact that there is a patently ridiculous chapter in which Alec decides Daisy's been dragging his daughter into danger, Daisy has a tantrum about it and returns the engagement ring, and then they swiftly make up because Belinda gets sad about it. I'm not sure Alec ever really deals with the fact that he's mad about Belinda getting into danger, and Daisy never really answers the accusation that she got Belinda into a nasty atmosphere (because I do think Alec has a point that maybe a village where someone is writing nasty and potentially threatening poison pen letters is maybe not the best place to take a child), and basically proper communication and discussion never really happens. I mean, it's cute and all, but hmm. If there was an issue to begin with, it never does get resolved.
That being said, still a mostly enjoyable book, with a couple of little twists on the subject of who is writing the letters and who did the murder, for variety.
Rating: 3/5