The three 'W's are what are you reading now, what have you recently finished reading, and what are you going to read next, and you can find this week's post at the host's blog here if you want to check out other posts.
What are you currently reading?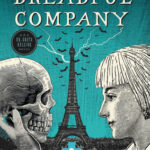 Dreadful Company, still. For all my excitement, so much else has been happening that I really haven't been reading enough. Actually, most of the books I talked about last week are still in progress, and a couple more. For a book club read, I'm partway through Death of an Airman, but primed by Murder Must Advertise and Cocaine Blues, I pretty much know the plot, I think. Still, one of the detectives is a Bishop, which is different.
What have you recently finished reading?
The last thing was The Civilization of Angkor, which was interesting but a bit repetitive. A lot of the interpretations are made from the tons and tons of inscriptions we've apparently found in Angkor and the environs, which isn't my favourite kind of archaeology/history. There's surprisingly little about burials in and around Angkor Wat in this book! Boo.
What will you read next?
One thing at a time. I have no idea right now. I want to finish Death of an Airman and Dreadful Company, and then I'll think about it!
What are you reading?