Hello, folks! Once more, I'm out and about this weekend — time to go spend a day with my grandparents-in-law, but before I go, here's the haul from last week's paper (two year) wedding anniversary trip. Shoutout to both the American Book Center and Stanza Bookshop in the Hague for being lovely. <3
Oh, and here's Breakfast reacting to the full haul (I'm splitting it in two to post!).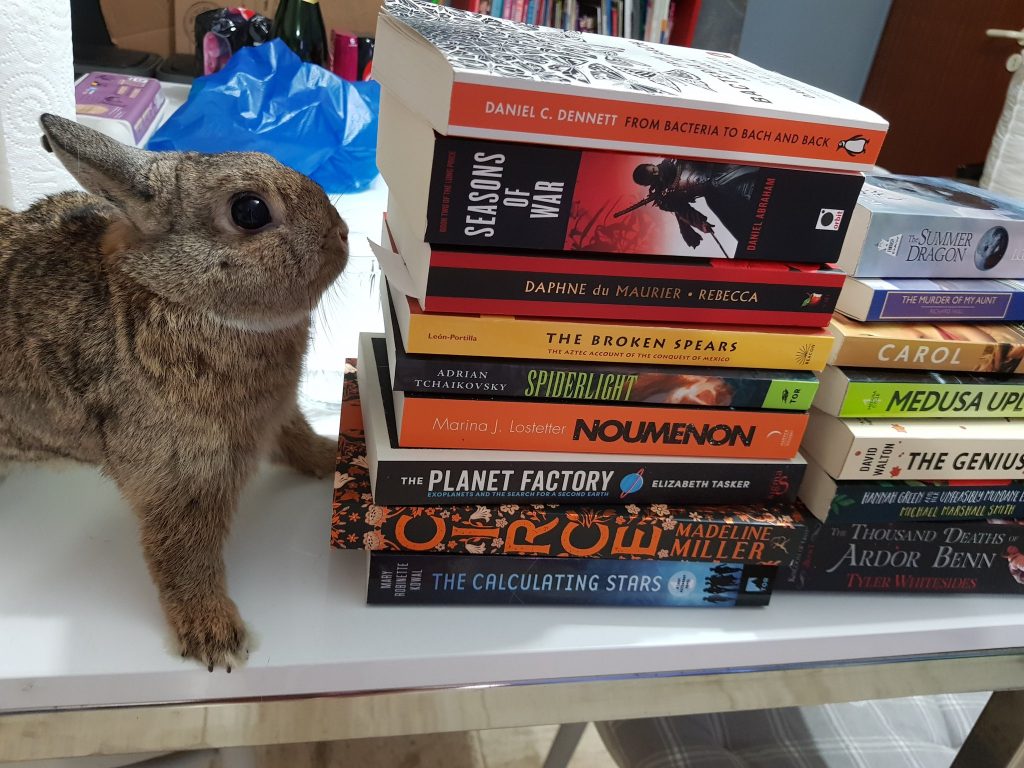 And let's get to it!
Non-fiction:
A bit broad in scope, as ever. I'd been looking for something on the Aztecs especially, so I'm glad I found that!
Misc:
All a bit classic. I've been meaning to reread Rebecca, and my wife picked it up for me mostly because the owner of Stanza Bookshop is so lovely.
Received to review:
Thank you, Angry Robot! And Tor. I need to get to reading my ARCs!
Books read this week:
Reviews posted this week:
–Foundryside, by Robert Jackson Bennett. A lot of fun, with a heck of an ending. 5/5 stars
–Madam, Will You Talk? by Mary Stewart. I keep coming back to this, and I think part of it is the mature view of love the characters have. It's just… lovely, even if other parts of the novel are decidedly not. 4/5 stars
–Immune, by Catherine Carver. A good rundown of the immune system, at a fairly basic level. 3/5 stars
–Sleeping Giants, by Sylvain Neuvel. A reread to get back in the swing of things. So many little things I'd forgotten! 5/5 stars
–The Girl Who Soared Over Fairyland and Cut the Moon in Two, by Catherynne Valente. Another lovely entry in the series. 4/5 stars
–The Ruby in the Smoke, by Philip Pullman. A fun reread for me, and Sally is still awesome. 3/5 stars
–Almost Human, by Lee Berger and John Hawks. A really fascinating account of finding hominin remains and what they might mean. 4/5 stars
Other posts:
–Discussion: Deciding What To Read. What it says on the tin. Are you lister, or a random grabber?
–WWW Wednesday. The weekly update on what I'm reading.
Whew! That's that. How's everyone doing? What've you been reading or stacking onto your overflowing shelves?