Good morning! Tomorrow is my birthday, so I'm getting a couple more books then… but after that, I swear I'm toning down my hauls for a while.
Since I'm still at my parents', here's a bunny pic! Yes, this is Hulk. Yes, that's her bag of hay — the one we use to replenish her ball of hay, which is the hay she's actually meant to eat.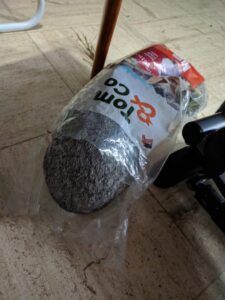 Sigh.
Bought:
Ah, Waterstones, I missed you.
Received to review:
Yaaaay! I love Jo Walton's work, so I am excited for this. I've also been eyeing An Alchemy of Masques and Mirrors for a while, so I'm excited to get to that, too.
Read this week:
Five stars to: The Carpet Makers.
Four stars to: The Ghoul King, The Button Box, The Hammer and the Cross, Machiavelli, Assassin's Apprentice.
Two stars to: Defy, Lamb, The Warrior Princess.

Reviews posted this week:
–The Martian, by Andy Weir. Still a lot of fun on a reread. Such snark! 4/5 stars
–The Spellslinger, by Sebastien de Castell. This is a fun coming of age story that doesn't go the typical, easy way of fantasy novels that feature misfits who can't use their magic. 4/5 stars
–Wicked Plants, by Amy Stewart. More for flicking through than reading exhaustively. 3/5 stars
–The Real Lives of Roman Britain, by Guy de la Bedoyere. A good attempt at bringing the Britons of Roman Britain alive. It falls a little short for me, because we have so little information. 3/5 stars
–American Gods, by Neil Gaiman. A reread I thoroughly enjoyed, although aspects seem a bit too… obvious to me now. 4/5 stars
–Clouds of Witness, by Dorothy L. Sayers. Another reread of a favourite. 4/5 stars
–The Glass Magician, by Charlie N. Holmberg. Ceony drives me a bit mad, but overall I still had fun. 3/5 stars
Other posts:
–Top Ten Tuesday. My last regular Top Ten Tuesday post, this features a top ten of past top ten posts.
How are you doing?