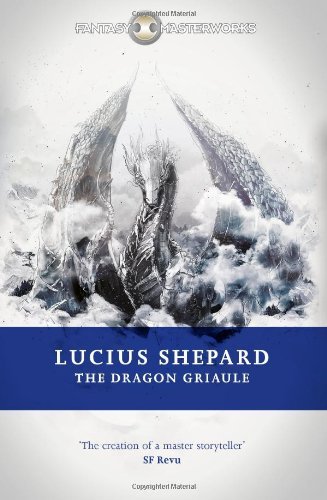 The Dragon Griaule, Lucius Shepard
I wasn't sure what to hope for from The Dragon Griaule. I mean, obviously it's received some critical acclaim to be considered a "Fantasy Masterwork" by Gollancz, but it purports to treat dragons in a very different way to traditional fantasy, and Lucius Shepard professes to hating the usual run of fantasy with elves, dwarves and halflings. I rather like my elves, dwarves and halflings, so I wasn't sure if I would get on with Shepard — particularly as I like my dragons to be real and active, not any kind of allegory of human nature or morality as some commentary on this implied it would be.
But it's okay: I loved the world of Griaule. I couldn't point to one of the stories I liked best, really: I just loved the overall style and setting, the way Shepard set up his world. If I had to pick, it'd be 'The Scalehunter's Beautiful Daughter': the world of exploration there fascinated me. In general, though, I enjoyed this more for the unique take on dragons than for characters, most of whom were unpleasant or otherwise hard to root for.
I can see Griaule's influence on more recent books with dragons, I think. At least, something of Griaule seems to touch Robin Hobb's work, with her amoral, self-centered dragons.
What I wasn't entirely sure about: Shepard's portrayal of pretty much all the women in the book, while often sympathetic, generally cast them all in very similar roles with similar attributes. Even while the narrative didn't seem that judgemental about their antics — sexual promiscuity, dissipation — it seemed to consider them universal. I don't think there was an actual "virtuous" woman in the book. It seemed very one-note in that sense. Not that the male characters are much better, thinking about it.