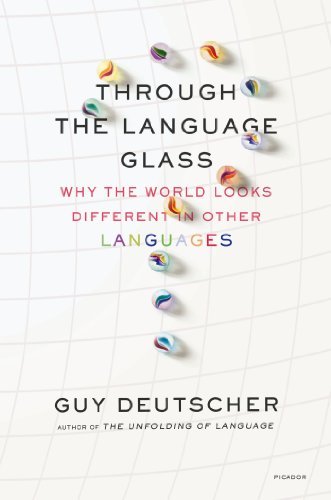 Through the Language Glass, Guy Deutscher
I can understand people who feel that Through the Language Glass didn't quite fulfill its promise. The subtitle might be more accurately, "does the world look different in other languages?" And the answer is yes, but in a limited way that won't be satisfying to those who want the answer to be an unequivocal yes. People feel that the world is different (for them) in different languages, and even that they are different in other languages, but there just isn't the scientific data to back those feelings up.
(For me, and this is a brief digression, I do suspect that those who "feel different" when they speak other languages aren't taking into account context. For example, say you speak Hebrew with your family and English in school. You are a different person in those two contexts, but not because of the language you speak. You're adapting yourself to the situation, including the language. I suspect that even years after that division is so clear, where you might speak Hebrew to someone in the workplace, the associations remain.)
Anyway, I found the book itself a bit dense and prone to repetition, but overall, very interesting. I loved the discussion of the issue of colour in Homer's work, as it's something that inevitably came up when discussing his epithets in class. Why "wine-dark sea"? How could the sea look like wine? And this book has the answer.
It's fairly conservative in its conclusions, not going beyond the available data — and mocking rather people who did go beyond their data — and explaining everything at some length rather than packing in various new ideas. It does include a lot of examples and interesting facts about various languages, like languages which don't use egocentric directions but always geographical ones. I would've been interested in a bit more on gendered language, but it doesn't seem as if the work has been done there, yet. It also gives some credit for ideas that were ahead of their time, even if they were founded on shaky principles, which was interesting.
Ultimately, Deutscher explains why early assumptions that language affects the way we perceive the world were wrong — but then goes on to explain that that instinctive feeling isn't wrong in itself.