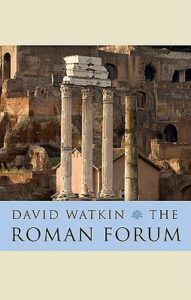 The Roman Forum, David Watkin
Most books about the Roman Forum would tend to focus on the Roman period itself, but this rather fascinatingly did a survey through time — not only the classical Roman period origins of the Forum, but the transformations over the years since. The authors strongly feels the importance of seeing the Forum as a living place, somewhere that developed since the time of the Roman Empire, so he spends much time lovingly describing the churches built on the site as well. It's an approach I definitely appreciate: it's ridiculous to try and stop the clock of the Forum at the end of the Empire, or to think it was always just one thing throughout that period either. We can't turn the clock back, so the Forum is best embraced for what it is, rather than attempting to freeze it in time.
I did find this book fascinating, but my one quibble is that the author is almost aggressively against archaeology. He complains frequently about excavation in the forum. And yes, some of it has been done destructively, and I do disagree with trying to tear down anything that was built since Constantine reigned (or whatever your chosen marker point might be). But at the same time, archaeology can be of great value, and I would also be sad if the Forum were to be barred to archaeologists.
Rating: 3/5