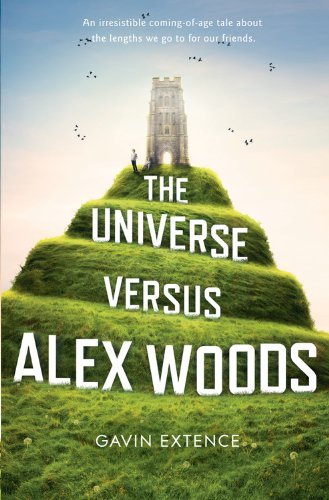 The Universe Versus Alex Woods, Gavin Extence
Oh, wow. The Universe Versus Alex Woods starts off seeming like it's gonna be a quirky sort of book: the narration is matter of fact where it possibly shouldn't be, and the situation Alex is in on the opening pages is an interesting one. Unfortunately for everyone who picked it up on the basis of that, it's not really the kind of book it turned out to be. I don't know that I'd call it funny — it's not laugh out loud funny, anyway; more "wry smiles" funny — and I don't know that I'd call it heartbreaking, either. It made me cry, but the simplicity of the narrative voice kept it from being maudlin, from dwelling too much on any of the important details, which is what for me made them strike all the more forcefully.
It is the story of an unlikely friendship, that's definitely true, and it's a beautiful story from my point of view. It's fairly apparent from the first chapter, to me, what exactly is going on here: what matters is how we get there, and how much less funny/quirky it seems by the end, and how much more sad and true and beautiful. But if you don't want to know, don't read any further in this review.
What was apparent to me from the beginning is that this is a book about an assisted suicide. It didn't even need to be stated clearly: trying to get back into the country at Dover, the urn of ashes, somehow it all just clicked for me. Possibly because this is an issue that I've thought about at great length, forwards and backwards. Because if I were Alex Woods, I'd do exactly the same things, in exactly that order, and I would feel exactly as right about it.
The friendship between the two is the fun and quirky part; the fact that, when Mr. Peterson becomes ill, Alex chooses to take care of him, and then to make sure that he is also allowed to die when he's ready, and the understanding between the two… This is an idealised version of how this might happen, and the fact that Alex narrates means that we don't pull up and see this from another character's point of view — how they might worry about Alex's reactions, how he might feel — and that might make some people feel that this is a book somehow advocating for euthanasia. Which I think it is, but only in the sense that it makes it clear that to be allowed a choice about how and when we die makes it a lot easier to die — and that for some people 'how' and 'when' might be very clearly defined, as they are for Mr. Peterson. But I don't think it advocates euthanasia as the only way. It just emphasises choice, and how very comforting it is to many people to know that they have control over even that last inevitability. It even emphasises choice in smaller matters, like what drugs you take.
If you don't understand why someone would want assisted suicide, this might help. If you don't understand why someone would want to help someone commit suicide, I think this would definitely help. And if you already understand both of those things, then it's still something that articulates all this very clearly, and might just give you words or clarity for yourself in the future.
I am definitely, definitely keeping this book. I will probably lend it to people, and I hope I never need to read it again myself, but I can imagine times when I might want to.